Home
|
About Us
|
Contact Us


"Help! My project is a complete mess!"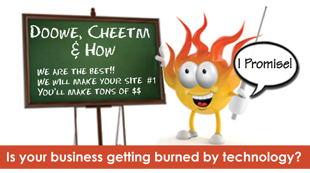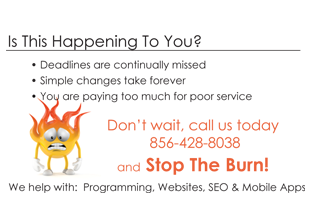 Frustrated? Confused? Overbudget? No returned calls. Excuses. Are you feeling any, or worse all of these? Do you have a software or website project that has fallen apart? Not sure what to do?
Step 1: Take a deep breath.
Step 2: Know you are not alone.
Step 3: Give us a call today (856-428-8038).
For over 14 years Emaxed has been there for clients who were in your shoes and we will be there for you too.
Signs your technology project might be in trouble!
Communication has fallen apart with your vendor
Deadlines are continually promised and missed
The work you have seen so far, is not what was promised
Simple changes seem to take forever to get done
You feel you are paying too much for the service you are receiving
How we will help:
You will benefit from our project saving experience.
Your project will get back on track quickly and painlessly.
You will receive service based on honesty, integrity and performance.
We provide you with affordable solutions; we work within "your" budget.
Did we mention our dedication to service?
Our process is not rocket science:
Truly Listen first.Ask questions. Do research. Develop a plan. Present ideas. Execute the plan.
We are here to help - right now! Call us: 856-428-8038 or contact us here
"Many first time clients come through our doors angry, frustrated, even in tears. After our first meeting, they quickly realize there is light at the end of the tunnel and once we finish their project, they become "clients for life".

- Michael A Zielinski, CPA, CEO (Emaxed)
© 2012 All Rights Reserved * Emaxed (ABM Internet Design Group, LLC)